Shopping Cart
Your Cart is Empty
There was an error with PayPal
Click here to try again
Thank you for your business!
You should be receiving an order confirmation from Paypal shortly.
Exit Shopping Cart
| | |
| --- | --- |
| Posted on November 1, 2012 at 12:05 AM | |
Reinventing is een vorm van verandering.  Het is als een systeem niet meer wordt gerepareerd kan worden of verbeterd kan worden, maar opnieuw ontwikkeld moet worden. Reinventing is noodzakelijk want alle systemen hebben een curve, met een begin en een einde. Met andere woorden, als men niet reinvent, verdwijnt het systeem.
Over veranderingen op Curaçao heb ik eerder publicatie gepubliceerd. Verandering is nergens makkelijk, maar op ons eiland is het een groot problemen.  De weerstand is enorm en vaak mislukt verandering.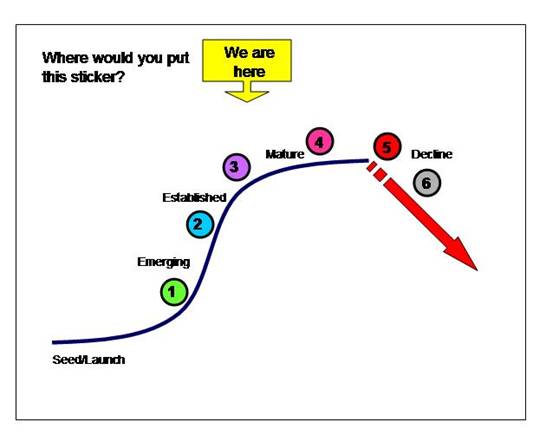 De systemen van Curaçao 2.0 zijn al in decline, verval. Alle 2.0 systemen op Curaçao zijn gebroken. Politiek, Bestuur, Onderwijs, Gezondheidszorg, Transport, Pensioenen,  noem maar op.  De oplossing is om deze systemen te vervangen door 3.0 systemen.

Systemen kunnen overleven door voor dat ze in verval raken, zichzelf opnieuw uit te vinden: reinvent.  Het reinventing proces moet echter beginnen in "Establish fase", ruim voor het verval inzet.  Dan ontstaat er een tweede, nieuwe curve, die doorgaat, ook als de oorspronkelijke curve afsterft.  Zie figuur hier onder.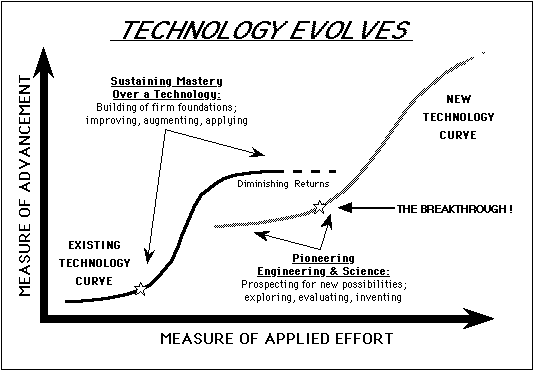 Als men het reinventing proces laat inzet, is succes bijna onmogelijk.  Dat realiseert men zich onvoldoende.  Ook de auteur van het nu volgen figuur vergist zich.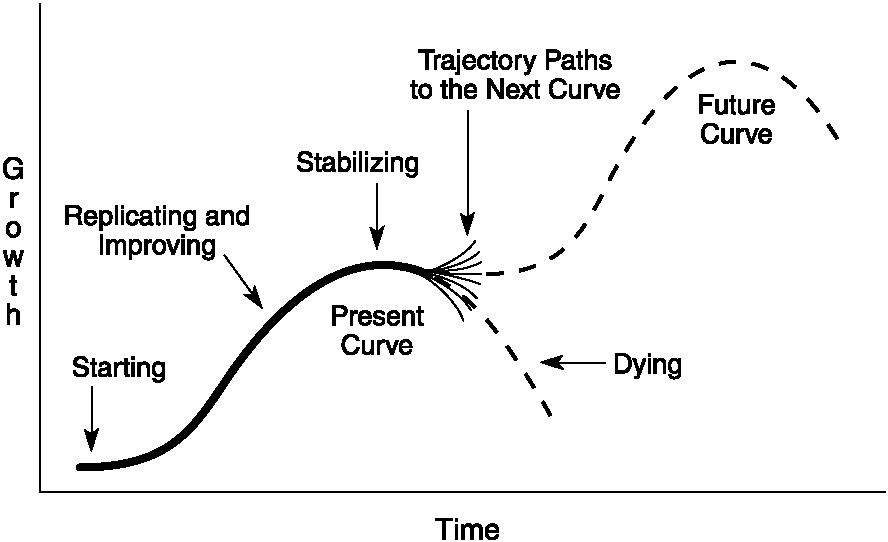 Ik zal het trachten uit te leggen.  De oorspronkelijke curve moet nog voldoende groei en rendement laten zien.  Er moeten nog winsten en reserves zijn om de nieuwe curve, in de begin fase te subsidiëren. 
En daar is nu het probleem.  Curaçao 2.0 heeft geen winsten en reserves meer om de sprong naar 3.0 op eigen kracht te maken.  Het is niet waarschijnlijk dat Nederland in onze reinventing wil of kan investeren.  De vraag is of we buitenlandse investeerders kunnen aantrekken die in de diverse deelsystemen van Curaçao 2.0 willen investeren, in het kader van reinventing Curaçao.  Wie wil nu investeren in Aqualectra, UTS, de raffinaderij, het dok, het nieuwe ziekenhuis?
Met andere woorden.  Met de schuldsanering van het land Curaçao, beschikte Curaçao over de middelen om zich te reinventen.  Dat is niet gebeurd.  Nu zijn is het begrotingstekort weer toegenomen, zijn schulden toegenomen, is het eigenvermogen afgenomen.  Wat nu?  Niet dat het onmogelijk is, maar het is buitengewoon moeilijk.  Er is een deskundige visie nodig.  En leiderschap die iedereen betrekt.

Wordt lid van mijn site en draagbij aan de discussie.

Categories: Curacao 3.0, Strategic Management, Public Administation
/